Kadoil Made A Fast Entrance Into Year 2021
Kadoil, as one of the leading domestic brands of the fuel market, is ongoing to maintain its proper and powerful position in the sector by means of the investments it realized in 2020. Kadoil conducted the first "Sales Power" meeting of year 202,  on the 21st and 22nd of January at GreenPark Hotel, with attendance of 16 regional directors providing services throughout the country and personnel of its headquarters. In the meeting so realized, it was both assessed and evaluated year 2020, while strategies for year 2021 were also shared.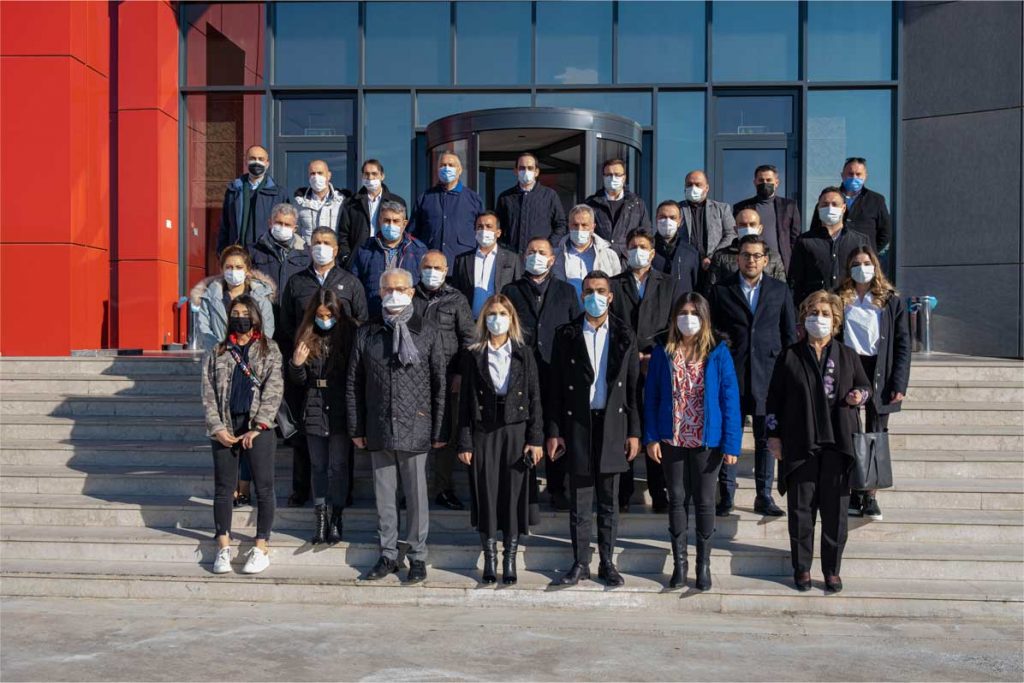 The closing meeting held on Friday, January 22nd was attended by Kadoil Board of Directors Deputy Chairman Ms.Nergiz Kadooğlu Çifçi, Board of Directors Members Mr.Ziya Gündüz and Mr.Fettah Kadooğlu, Assistant General Manager Alper Karaeminoğlu as well as all department managers. 

In such "Sales Power" meeting, it was held discussions on the sales target planned to be realized in year 2021, station investments as well as dealer relations and consumer loyalty by taking into consideration pandemics agenda for 2021 including general analyses. It was assessed and evaluated such new projects that could be guiding and directing the sector.
Meeting commencing with the opening speech of Kadoil Board of Directors Deputy Chairman Nergiz Kadooğlu Çifçi, continued with the assessment of the sector for year 2020 by Assistant General Manager Alper Karaeminoğulları. Workshop held in the meeting where regional managers prepared after being divided into four different groups attracted particular attention. Such workshop activities where innovative works are shared from viewpoint of persons active in the field, highlighted new projects to be put into practice. While a general assessment of year 2020 is made on the first day of the meeting adjourning with the presentation of Board of Directors Member Ziya Gündüz, year 2021 targets are shared on the second day.
It was shared with Kadoil team visiting on the second day of the meeting, Kadooğlu Oil Plant operating under Kadooğlu Holding the export as well as domestic market targets of Bizce brand. The meeting continuing after the plant visit with the presentations of Investment, Non-Fuel Sales and LPG Managers, ended with Board of Directors Deputy Chairman Nergiz Kadooğlu Çifçi sharing the future plans with the attendees. 
No Fantasies! Time For Being Planned.
Second day of the meeting ended with the data and information shared by Kadoil Board of Directors Deputy Chairman Nergiz Kadooğlu Çiftçi and overall evaluations made. Ms. Çifçi, referring to the financial power of the Holding and expressing that they are proud to be positioned high on such survey reports prepared by successful publications like Capital, Fortune 500, emphasized the fact that success could be achieved with hard and arduous work rather than coincidences. Çifçi further said "2020 was a year when not only the fuel sector but the whole world were deprived of their beaten tracks and it was very difficult to become visionary. We were involved and proceeded with total amendment, certain taboos were permanently changed. We too changed, confronted with our own self. We developed new business models. While passing through this process, we at all times stood by our regional managers and dealers. We provided and made available means and facilities taking them to the future. Backed up by Kadooğlu Holding's power, we never postponed our investments. We are proud to achieve and fulfill our dreams in such a hard and cumbersome year. If our business partners had not confided in us or our team was not as Professional, we could not have achieved the foregoing." 
Time To Exhibit Our Potential   
In the presentation he made, Kadoil Board of Directors Member Ziya Gündüz while sharing with the regional managers such agenda comprising of market shares, profitability and station segmentations, also provided detailed particulars concerning year 2021 management strategies. Mr. Gündüz, expressing that Kadoil's vision and mission are replenished with the new team, attracted attention to the fact that Kadoil is required to exhibit its potential in every step taken in its 15th year of operations. 
2021 Is A Year Of Change For Kadoil
In his speech, Kadoil Assistant General Manager Alper Karaeminoğulları stated that 2021 would be a year of change for Kadoil and in all operations introduced, it is aiming to achieve perfection. Karaeminoğulları, referring to the fact that new projects are to be introduced not only for drivers of commercial vehicles but for drivers of passenger cars as well, said "Demands of women visitors as well as those of our employees are of substantial essence for us, we have planned different organizations for them as well. We placed weight on EcoMax, our product with additives ensuring high performance in saving and Kadomatik, our vehicle recognition system incorporating the most advanced system and most sophisticated technology". "We recognized and became aware of KOBİ's (SME's) present in the system, yet not capable of receiving the desired service due to being perceived as regional. Further, while continuing to exist specifically in provinces we are not in existence, we shall be in close contact with the leading fleet owners of several provinces" he said. Further adding that they have taken particular steps in respect of station services enabling substantial ease for the customers via Ortak Platform (Common Platform) and Doldurgeç (Fill & MoveAlong) projects, Karaeminoğulları underlined the fact that customer satisfaction is at the core of all operations.
Target; Favorite Locations and Province – County Centers 
Investment Manager Ozan Okan, underlining the fact that while setting forth their investment targets, they are taking into consideration the favorite locations as well as stations at the Province and County Centers, further pointed out that they are realizing their new sales strategies by considering the current condition of our country. Mr. Okan expressed that they are targeting to come together with consumers at various different points required by vehicle drivers, with their priorities being city centers and provinces that they are not in presence. Okan further said "In year 2021, we shall be continuing with our path by adopting projects where we shall be highlighting our retail power. He attracted attention to the fact that they are not only aiming to increase the number of stations but market, toilet and service concepts shall likewise be aspects for preference. 
We Are Providing Ease Of Logistics
LPG Sales Manager Teoman Akdağ, sharing the point attained in respect of Kadogaz, while saying "Our topmost priority is providing service at all Kadoil stations by means of our speedily accelerating LPG brand Kadogaz", he further added "We have become a cause for preference amongst our competitors through logistic facilities provided to the dealers."
Hakan Taşel, Non-Fuel Sales Manager, while sharing the sales figures of the past year in the presentation he made, referred to the targets for year 2021 as well. While providing information about the wide range of products, Mr. Taşel pointed out that Kadoil dealers are of essence not only in respect of fuel but for extra revenue branches on the agenda of the sector. Taşel, expressing that they are satisfied with the success achieved by the regional team, further added that they are always targeting the ultimate. Taşel also said "Due to the pandemics, we had to suspend our international trips for a while. Notwithstanding this, our campaigns are ongoing at full pace. In our sales campaign divided into 3 separate levels, we are ongoing to provide gifts to the dealers achieving the target in our sales campaign".