Filling: As Kadoil, by ascribing essence to investment for rapid and continuous development, and for storing petroleum products with the objective of international trade as well as distributing the same in-house, in parallel to the concept of providing Premium quality service, we initiated in 2008 Akdeniz Filling Facilities over an area of 70.000 m² with a storage capacity of 141.000 m³ petroleum products. By means of such major investments we have made for the said facility, we are providing our services with product quality and price elements in compliance with international standards and at the same time presenting such other services through these facilities which could duly respond to international petroleum business, fuel supplies, requirements of the region and further business sectors. We are utilizing 30.000 m³ of the facility's capacity to meet and cover regional as well as domestic demands, whereas the remaining 111.000 m³ as type A warehouse with the purpose of making an introduction to the international petroleum market and creating new business opportunities in Turkey for foreign petroleum companies.

Kadoil Mediterranean Filling Facilities is at a distance of 5 km offshore, largest and most sophisticated facility of both Turkey and Mersin area, with a draft of 14 meters, equipped with a sea platform where 2 vessels of 65.000 DWT capacity could be berthed simultaneously, is enabling companies engaged with domestic as well as foreign petroleum business make avail of the strategic advantages of the facility.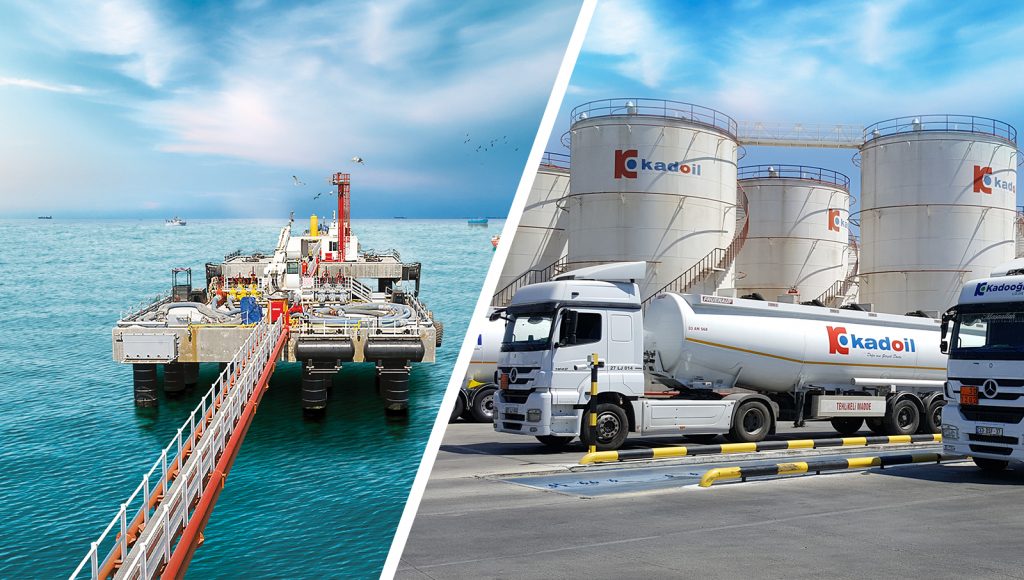 Title of the Enterprise: Kadooğlu Petrolcülük Taş. Tic. San. İth. ve İhr. A.Ş.
Express Address of the Enterprise: Kazanlı Mah. 32935 Sok No:1/B Kazanlı /AKDENİZ- MERSİN
General Data and Particulars About The Enterprise/Premises:
Kadooğlu Holding in the business sector ever since 1977, is one of the leading holding enterprises in Turkey operating in the fields of fuel, food, energy, real estate, domestic-foreign trade and station operations. Kadoil was incorporated in year 2000 under the business title Kadooğlu Petrolcülük A.Ş. as a fuel distribution company under Kadooğlu Holding. The company made its introduction to the fuel distribution network sector in 2006 under the brand of Kadoil.
Kadoil making overall Turkey fast and selective dealer investments in a homogeneous manner is currently serving its dealers and customers via more than 600 dealers nationwide as well as 16 regional directorates. Besides and in parallel to the foregoing, Kadoil predicting rapid changes in the sector and thereby setting forth its road maps, is providing its services, besides individual customers, to different distribution companies, public entities and agencies as well.
Kadoil has extended beyond the boundaries of our country and become the first and only Turkish fuel company in Iraq, currently spreading its station investments throughout Iraq in general and ongoing with its efforts to enlarge its dealer network.
Ascribing  particular  essence  to  investments  for  rapid  and  incessant  growth  and  development,  Kadoil  is  ongoing  with its  operations  towards  realization  of  import-export  as  well  as  transit  trade  of  petroleum  products, at  Kadoil Mediterranean  Filling  Facilities  possessing  a  storage  capacity of 148.000   cubic  meters.  The  facility  bears  the  sole offshore  sea  platform  in Turkey  installed  at  a  depth  of  maximum 14  meters  where  two  vessels   of  capacity  65.000 DWT  could  possibly  be  berthed  concurrently.
The facility is operating in the field of storing and filling of fuel products as well as raw/unprocessed vegetable oils. Its storage capacity for fuel products is 140.940 m3, whereas raw vegetable oil storage capacity is 9.408 m3.
Information About The Chemicals At The Premises and Activities Carried Out:
In parallel to the notification referred to under Article 7 of Regulation For Avoidance Of Major Industrial Accidents and Diminishing Impacts Thereof, chemicals statement has been made by using BEKRA notification system under Ministry of the Environment and Urban Affairs. On such statement made, it is declared and set forth that our premises correspond to a superior level of organization. Thus the relevant safety report specified under Article 11 of the same Regulation has been prepared for our facilities.
Our plant premises are subject to the relevant provisions of Regulation For Avoidance Of Major Industrial Accidents and Diminishing Impacts Thereof, whereas it is included in such chemicals stored, those which are categorized as inflammable, very easily inflammable, corrosive, hazardous on health, environmental and identified harm. Names as well as specification of hazardous chemicals are identified and listed on such Hazardous Substance Intervention Cards prepared in the form required under Article 6.
In our facility, under scope of the relevant provisions of Regulation For Avoidance Of Major Industrial Accidents and Diminishing Impacts Thereof; it has been taken and installed any and all kinds of preventing and limiting safety measures towards all major accidents made into scenarios. It is duly adopted and implemented under scope of the aforesaid measures, all sorts of Design (compliance in respect of standards) regarding control of major accidents, Basic Process Control Systems (safety valve, equipment and the like, Process Alarms (level alarm and such similar), Physical Protections (tank pool, barrier, etc.), fire extinguishing and gas detection systems.
Our facility has duly prepared an Emergency Plan to be implemented in case of any major accident and is carrying our practical drills to that effect at regular periodic intervals.
Effective contact and communication are established with the institutions providing fire-fighting and ambulance services from amongst such emergency services anticipated to take roles in the scenarios made for the premises, whereby it is ensured that such entities providing emergency services are duly acquainted with the facility.
Kadooğlu Petrolcülük Taş. Tic. San. İth. ve İhr. A.Ş. is exchanging data and information with intra-departmental units, neighboring entities in the vicinity outside premises of the facility, emergency service agencies, Province Disaster and Emergency Directorates, Environment Province Directorate and such other similar technical, scientific, industrial and administrative authorities through letters of petition or via mail.
Hazardous Substance Intervention Cards prepared for each and every chemical included in the scenarios for the facility under relevant provisions of Regulation For Avoidance Of Major Industrial Accidents and Diminishing Impacts Thereof,  are to be forwarded to Province Disaster and Emergency Directorate, Province Health Directorate, affiliated Municipality and/or Fire Brigade Organization as recommendation to the emergency services agencies further to the occurrence possibility of any major accidents and ensure that they are properly updated. In the event of any change in the data and particulars provided on any card, our facility shall reorganize and update such card in accordance with current status and forward the same to the relevant agencies and departments.