The Only Female Boss of the Male-Dominated Sector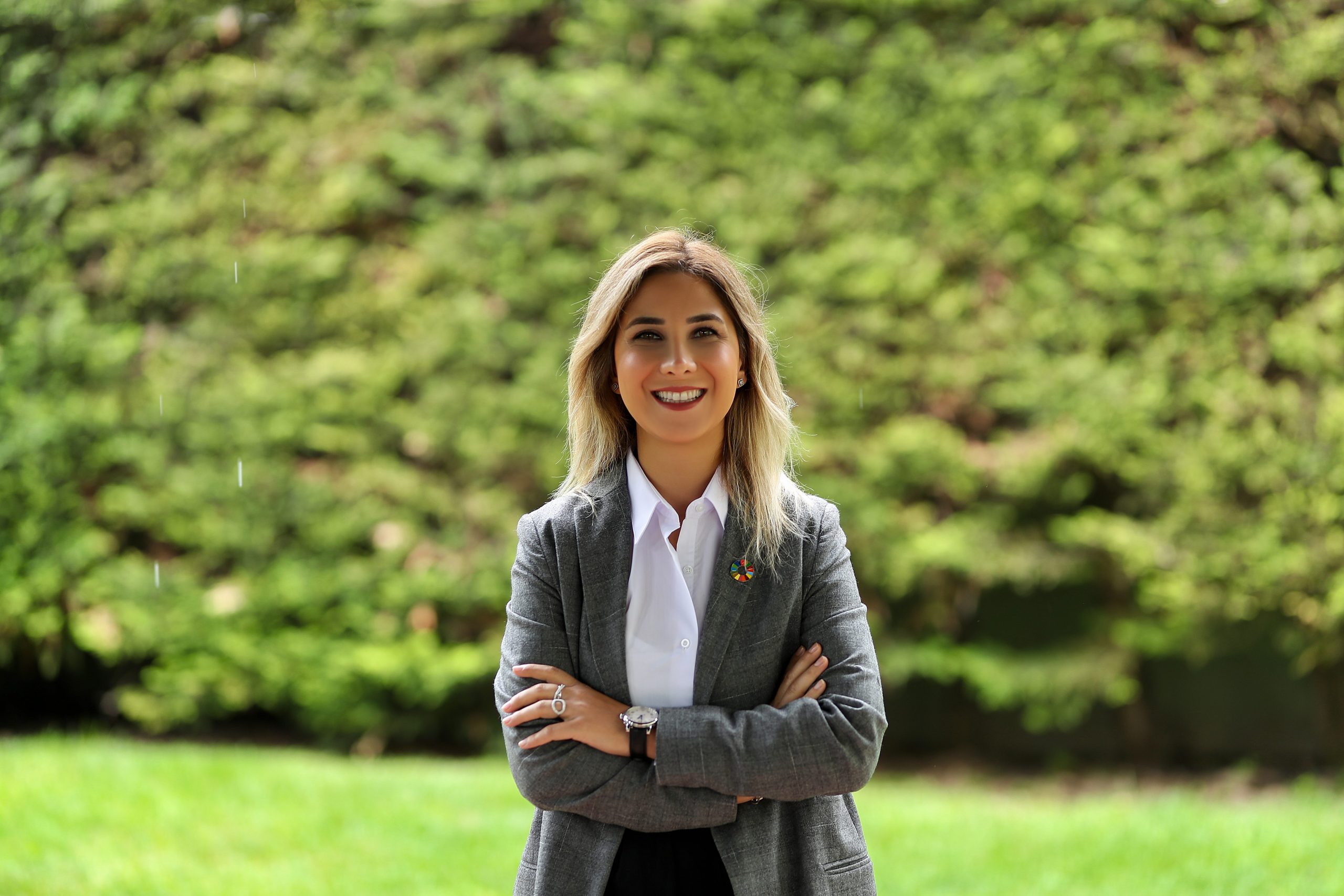 Kadoil subscribed to substantial success stories ever since its incorporation. What was the secret in the background of such success?
Kadoil is at present one of the most valuable brands in the field of fuel and LPG. One of the most important factors of this success is that the foundations of the company were laid down by a family in possession of a fantastic experience and know-how in the fuel sector. The company erected on such a robust foundation, maintained at all times its team spirit, emphasized on long-term strategies rather than short-termed achievements and Kadoil brand started to be referred to jointly with the phrases "quality" and "confidence". Ever since the day of our incorporation, we always targeted more and the better, thus grew up and enlarged our family from one day to the next. As Kadooğlu family, we are in business life for many long years. I am currently carrying the flag I took over from my father and elder brothers. I am well aware of the responsibility I am burdened with as a young woman and proud for not having failed the confidence entrusted in me by my family. We are shaping all of our strategies with our mission worded as "Reliability Alongside Your Route" and our customer-oriented organizational structure. Notwithstanding the foregoing, our most essential advantage is foresight regarding changes and executive agility. Listening to our customers, we closely trace the dynamics and trends of the sector, reinforcing our decision making mechanisms upon combining the leadership of the family with the know-how and experience of our professional executives, thereby reacting rapidly. Together with our business partners/stakeholders who are well-aware of our faith and planned growth, we are ever increasing the number of stations we are serving at, enjoying the pleasures creating new areas of enterprise jointly and organic growth through Accessing new customers.
Recently, we are witnessing the effectiveness of women is senior executive positions and associations. How do you assess this phenomenon as the sole boss of a male-dominant sector? Could it be stated that there is still quite some distance to be covered?
Fuel sector has a very masculine structure. Distribution companies, dealers and station employees and even public officials consist primarily of men. There are efforts conducted in order to enhance women representation, yet this posture of Kadoil entrusting the senior management of the company to a woman demonstrates that we are at a different position. Surely I am not the only woman in the management of the company. It is possible to see women in several critical positions of Kadooğlu Holding. I am proud to say that half of the senior executives within Kadoil are women and number of my women colleagues I celebrated Women's Day at our headquarters exceeded the number of men. Although I am not supporting positive discrimination as a woman, taking important decisions directing Kadoil's future together with my gender fellows, seeing to that they come to successful positions are all great factors of merriment for me. It is certain that we still have a long way to go, I believe that it should be paced ahead along such road of success, regardless of men or women. As Kadoil management, we are enabling young women to be acknowledged about this sector while still being educated and consider the fuel sector in making their professional choice. In order to increase our women employment in respect of station employees, we are generating several projects. I think that even when we provide equal opportunity to women, we shall be observing that by using their skills and know-how, they would be bringing a new breath to enterprise managements as well as the economy.
Would you please tell us about the activities you are conducting regarding Technology and R&D?
We are investing in technology in every possible area to develop our processes as well as decision taking mechanisms, reinforcing our dialogue with dealers and customers alike. Digitalization is our ultimate priority. Digital transformation has become an indispensable process for KADOİL by means of its hardware, software, data analytics as well as human resources. At present, we are equipped with an infrastructure to monitor all critical stages of the operation at our dealers, not only our terminals. We are able to follow- up and trace the purchasing frequency of our customers, including their spending amounts and routes. We are of course well aware of the fact that we could analyze such an extensive data, solely by implementing correct tools. Therefore, hereinafter we shall be focusing and concentrating our investments in this field, develop programs and orientate our brand, product-service and station investments in accordance with such data. Besides and further thereto, we are also aware of the fact that sensitivity regarding climate crisis and carbon discharge are transforming the sector. Particularly in respect of electrical cars, we are in strategic cooperation with alternative fuel Technologies and preparing our business partners/stakeholders to such new era. Likewise in parallel to the global objectives, we are also exerting effort to sustain our operations by using new/renewable energy sources. By means of the solar panels installed on the roof of our production facility at Gaziantep of surface area 19.000 square meters, we have started to produce energy in the annual quantity of 4.5 million kWh. We further started negotiations towards providing in the next period, energy of our stations from renewable energy sources as well.
Currently, electrical cars are in Turkey's agenda. What kind of road map would you be following to this effect and what are your anticipations as Kadoil in respect of this matter?
Developments in relation with electrical cars as the most important issue concerning the oil sector… In year 2019, 2 out of every 100 cars sold were electric. Whereas our expectation for this year is that the same rate would be 15 out of 100. In parallel to the introduction of TOGG, we expect such rates in Turkey to increase as well. We arrived in three months this year, the total number of electric cars sold in Turkey last year. Increase in the number of electric motor vehicles is not solely in respect of passenger cars. Now, electric models have been developed for commercial vehicles, lorries, buses, heavy load vehicles and even tractors. In Europe, weekly 2.000 stations are being constructed and installed to cover the charging station requirements of these vehicles. China and the United States are providing major incentives in this area to both vehicle manufacturers as well as infrastructure providers. Important developments are experienced in Turkey as well regarding vehicle charge stations. Thanks to the incentives provided, we foresee that the number of sockets being around 3.000 last year would be doubled within short notice. Similarly, number of companies receiving operator license from EPDK (Energy Market Supervisory Board) has already reached 124. On the other hand, I consider that following the regulatory arrangements made in Norway, it is required to be acted in a more planned manner in selecting the locations of vehicle charging stations. For instance, following the said regulatory arrangements made in Norway, out of 10 cars sold in year 2022, 9 was either electrical or plug- in hybrid. However, in the said country, vehicles owners do not prefer fuel stations to charge their cars. In other words, Electrical Vehicle Transformation converts not only the type of fuel but also where supply is to be made at. In Turkey, the infrastructure we erected in the last 100 years for fuel- driven vehicles by spending billions of dollars is at the verge of yet another major change. Because fuel stations were traditionally designed for rapid fuel intake. Drive up to the pump, pay and leave. Whereas electrical vehicles are in need of yet another requirement: TIME. Therefore, the requirement of car owner tends to be the house, business place or Cafe rather than a station. We are referring to a sector expected to reach this year a consolidated size of TL 1 trillion, providing employment to more than 150.000 employees. Consequentially, as the fuel industry and the public administration we are in need of considering this jointly in order to comply with this new future and avoid wasting the present investments, design the future and realize such a transformation in a correct manner. What I am trying to say at this point is that in incentives to be provided for electrical charge stations, it should be given priority to the fuel stations to avoid any idleness. I think there is no need to create new channels and adventures.
Well, how are we getting prepared as Kadoil fort his coming era?
End of year 2022, we executed a cooperation agreement with Eşarj where Enerjisa Energy holds majority shares as high as 94 percent, in the field of electrical vehicle charging stations. We are erecting high speed stations and very closely following-up the purchasing frequency, location as well as timing preferences of our customers. Within framework of our cooperation, in parallel to the target of Eşarj aiming over 1.000 high speed charge station in 81 provinces of Turkey, it is targeted to be installed 100 high performance charging devices in 50 provinces. It is started to be paid visits to the stations we installed initially. Feedback received from the customers are also very positive, we hope that we could extend our network within soonest notice.
You are assuming duties as well in TÜRKONFED, Turkey's largest independent business sector association. What are your objectives under the said association?
I can say that we are a very active family in realizing cooperation with non-government organizations. We are taking active part in Turkey's leading non-government organizations like TÜRKONFED, TÜSİAD and TAİDER. I am actively assuming the duty of Board of Directors' Vice- Chairman at Turkish Entrepreneurs and Business World Confederation (TÜRKONFED) as the umbrella organization of the regional as well as sector-based business world representation societies, positioned amongst the major business associations in Turkey with its effective membership structure and number spread around Turkey in general. Under TÜRKONFED, besides my role as Vice-Chairman of the Board of Directors, I am serving on the Deepening and Institutionalization Committee as well. Here, our prioritized target comprises of improving institutional capacities of member federations under the confederation, enhance recognition of TÜRKONFED before the members and ensuring reinforcement of member loyalty, as well as increasing the number of associations under regional federations, now reaching 26.
The concept of sustainability is gaining importance and value every day in our country as well as worldwide. What are the steps taken as well as to be taken by Kadoil to this end? How do you think environmental Technologies are to be made use of for a more sustainable world?
We are acting around a common mission, not only as Kadoil, but in respect of all of our companies under the Holding. To this effect, as Kadooğlu Holding, we adopted the concept of sustainable production assuming the target of becoming an environment-friendly Corporation. The solar energy exchange at our Kadooğlu oil plant was a Project on our agenda for quite some time. By means of such energy facility investment with capacity of covering 36% of our annual energy consumption, we had the opportunity of realizing our production by the energy generated from local, renewable and environment-friendly resources. In parallel to the targets towards global sustainability, while making new investments to reduce our carbon footprint on one hand, on the other hand we are focusing on our corporate liability projects respectful to the environment as well.
What are your plans for the future?
As Kadoil, in the last months of 2022, we outscored our esteemed competitor ranking one position higher and concluded the year at the eighth position regarding market share. Entering into deals with our prestigious business partners at valuable locations, we increased our number of stations as well as visibility. In order to enable our ex-fuel products and services meet with our customers, we initiated some very essential cooperation agreements. In this new period, we shall be continuing with our projects without pressing the brake pedal. While transferring new stations, we shall at the same time upgrade, enhance and measure the service of our station network via training and such applications like secret customer. In parallel to our visibility at town centers and main highways alike, we are also targeting to increase the number of cooperation contracts that would bring extra revenues for our company and dealers. Our objective as Kadoil, is that regardless of the fuel type, while creating retail areas where requirements of both corporate and individual vehicle users are met, concurrently making up a company well-aware of its social responsibilities, preferred by its employees, stakeholders and customers alike. We hold the belief that once stepping ahead in parallel to such a target, we shall be achieving sustainable growth.